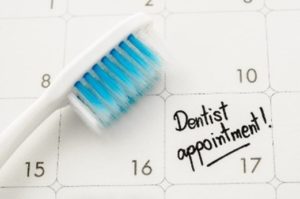 According to the National Health Interview Survey, a little over half of adults have private dental insurance; however, the Centers for Disease Control and Prevention reports one-third of Americans haven't been to a dentist within the past year. Dental insurance is a monthly investment that provides discounted rates for the services your teeth and gums need to stay healthy. If you pay your monthly premium, but don't visit your dentist, you're throwing hundreds to thousands of dollars down the drain each year. It's not too late to maximize your benefits. Here's how you can achieve the healthy smile you deserve for minimal expense.
1. Utilize Your Preventive Coverage
Despite paying for dental insurance, 40% of adults who don't visit a dentist regularly don't go because of the cost. Many people wait to schedule an appointment until a problem occurs. Although you might believe you're saving money, you're opening the door to a costly preventable dental emergency. Not to mention, your dental benefits cover 100% of the cost of cleanings and checkups after a copayment.
Although your toothbrush and floss are effective in keeping gum disease and tooth decay at bay, the American Dental Association recommends a preventive appointment at least every 6 months. Research shows every $1 spent on prevention can save up to $50 on restorative and emergency expenses. Your policy provides an affordable solution to keep your smile healthy and prevent an expensive dental bill down the road.
2. Don't Wait to Treat Dental Issues
Routine appointments allow your dentist to monitor your oral health to detect issues while they are still small to prevent them from worsening. Unfortunately, 80% of Americans delay dental care, knowing it will cost more in the long run. Your dental insurance allows you to treat common oral health problems quickly and for minimal out-of-pocket expense.
Although every policy differs, your dental insurance can pay up to 80% of the cost after reaching your annual deductible. You are given a yearly allowance to use toward restorative treatments, like fillings, root canals, and tooth extractions. Your allowance won't be available forever. It will expire at the end of the year and doesn't carry over for accumulation.
3. Don't Wait Until It's Too Late
Only 2.8% of Americans meet or exceed their annual limits. You aren't reimbursed for your premiums, deductible, or allowance if you don't use all your coverage. Nothing will carry over into the following year, either. You'll lose everything you've paid for throughout the year.
There's still time to use your dental insurance before it expires. Your dentist will work on your behalf with your dental insurance to maximize your coverage. You can reach your oral health goals without the burden of a large bill.
About Dr. Sujal Patel
Dr. Patel earned his dental degree at New York University and is a member of various professional organizations, including the American Dental Association and the Texas Dental Association. He works with many dental insurances to keep his services affordable. If you have any coverage you're about to lose, contact our office today to schedule an appointment.